Happy Halloween, homies! May your jack-o-lantern be abundant with delicious seeds, may your childrens' sugar highs be tolerable and may your costumes contain your bosoms.
Why the bosom remark? Oh, I'll tell ya why. On Saturday at an out-of-town gig, a fight broke out between some ladies (?) in whorish costumes. In the aftermath, I heard the mini-riot was incited by boobs. Perplexed, I uttered, "But… but my breasts have never incited violence. On the contrary, they're very nurturing." Turns out it wasn't my rack that launched the attack.
On a personal note, and in an effort to further process the gig, I'll say that this was the first time I'd ever felt frightened at a gig before I went on stage. I don't frighten easily. I've had things happen post-gig that were unsettling, like the drunk who somehow figured out which room I was in and passed out on my door after bellowing, "Take off your shirt!" for 5 minutes. I once had my 2 front tires slashed while I was doing a gig in a small town. After reporting it to the RCMP, they said no other incidents were reported, so all I can figure is that the Royal Order of the Tight-Assed Ladies found my material a bit saucy and attacked the tires with spears, i.e. knitting needles.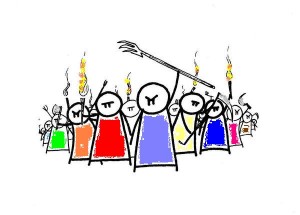 I digress. The crowd Saturday was young, in costume, and hammered. The organizers had to make several unexpected booze runs as they kept running out. The crowd was loud and disrespectful. The people that actually wanted to hear the show were frustrated, angry and embarrassed. When an entire room is talking and there is nobody policing the room, it is (to me) one of the most difficult situations as a comedian. And call it Spidey senses, but I had an uneasy feeling… I could feel a 'drunk mob mentality.' Waiting to go on, I could feel waves of adrenaline hit me. For a few minutes, I'd hear my heartbeat in my ears – fast – and I'd get up to calm down. Rinse and repeat.
On stage, it was 45 minutes of hard effing work. Exhausting. I'm sure Ian Wallace can relate as he had 30 minutes to get through and the audience was SHITTY. I got through my time thanks to Andrew Albert, who used aggressive (and funny) tactics on the audience before I got on stage, remaining calm outwardly, teacher tricks, psychology, humour and sheer grit. At the 30-minute mark, the slutty-girls fight broke out. I pointed this out to the crowd, then calmly stood on the stage watching until the tangle of fishnets and fake satin was taken outside. The audience finally sat down and got relatively quiet and (sorry to recycle a status update) I said, "It's a shame. Such beautiful girls, and so ugly on the inside." I don't know where those words came from but thankfully the audience showed their approval. I finished up my time and as I left the stage and Andrew shook my hand, he stage-whispered, "Start the car!!!"  We were outta there like bats out of Hades. Around an hour down the highway, Andrew suggested we pull over and stop to breathe while I gasped, "I think we lost 'em, guys!" Then we laughed like idiots and sang "Rocket Man" in perfect 3-part harmony as we admired our new and fresh emotional callouses and arranged PTSD counseling.
Oh crap! Remember when this was a weight loss blog? Hahaha! I can proudly say that all week, there has been Halloween candy in the house and I haven't eaten a speck of it. Thanks to my family for finding really good hiding places for it. Monday was my birthday and with great glee, I had a thick slab of lard cake after I was spoiled with Chiantis for dinner and my favourite perfume. I hadn't had much sugar in my diet for a couple of weeks. After I daintily inhaled the cake, I acted high and stupid for about 15 minutes then I promptly fell asleep on the couch for 2 hours, i.e. I am an 8-year old.  Oh, also – full disclosure – I had cake for breakfast the next morning.
I haven't been extremely disciplined this week. I haven't logged everything on My Fitness Pal (add me: lorihasfun) and I'm currently addicted to Spitz sunflower seeds. After 3 solid months (first trimester, if you will) of determination and discipline, this week kind of felt like a breather; just a chance to stand wheezing at the side of the highway, see how far I've come and catch my breath. On the other hand, it could be me slipping off the wagon so I'd best keep an eagle eye on that.
Today, I finally got to the part in Gary Taube's book, Why We Get Fat, about what to do about it. Hopefully by next week, I'll be able to speak semi-intelligently about it.
I'm really hoping to get past the 30-pound mark today. Let's go check it out. Ooooh yeah, 1.2 pounds of arse fell off. But I'd best get back to very low sugar this week before my luck runs out. Thanks for coming by. Is that a costume or do you just normally look like a supermodel?
Love,
Lori
Pounds lost this week: 1.2

Total pounds lost: 30.3